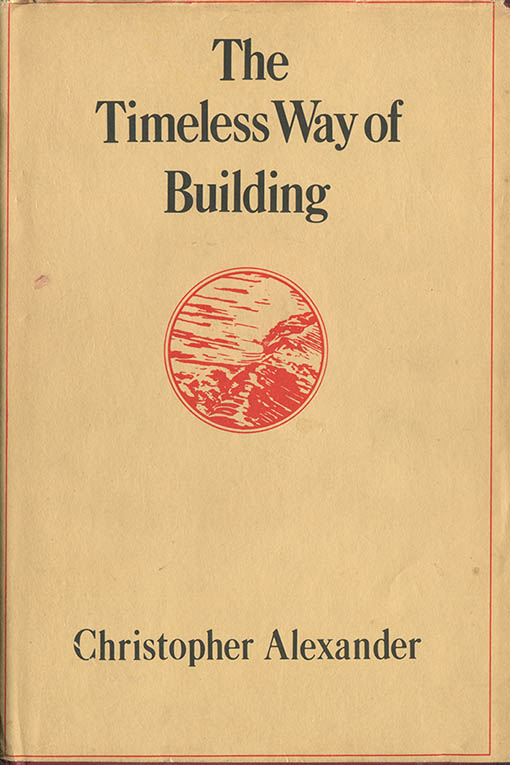 The Timeless Way of Building
Oxford University Press, 1979. 552 pages.
Alexander writes, "There is one timeless way of building. It is thousands of years old, and the same today as it has always been. The great traditional buildings of the past, the villages and tents and temples in which man feels at home, have always been made by people who were very close to the center of this way. And as you will see, this way will lead anyone who looks for it to buildings which are themselves as ancient in their form as the trees and hills, and as our faces are."
This volume provides the opening work in Christopher Alexander's seminal series on architecture. Here he provides a fascinating introduction to the ideas behind the succeeding books. Volume 1, The Timeless Way of Building, lays the foundation of the series. It presents a new theory of architecture, building, and planning which has, at its core, that age-old process by which the people of a society have always pulled the order of their world from their own being—it forms, in essence, the basis for a new traditional post-industrial architecture, created by the people…
"

Read it for inspiration; as a practicing planner, an educator, or a student, you cannot help but be challenged and stimulated by this book.—Dennis Michael Ryan, Journal of the American Planning Association

"
"

This is one of the most important books on architectural theory of the late 20th century. If you haven't read it yet, you better soon, because the times, they are a changing.—Dylan Scoles, Reader

"
"

This book takes you in a different world, a more humane, emphatic world, such a lovely read. Everyone who does not feel good in a glass, steel and concrete building and does not understand why, this book is a good start to appreciate 'The quality without a name'.—Craciun Octavian, Reader

"
---
Your browser is out of date!
Unfortunately, our shopping cart does not work on this browser. Update my browser now
Your browser is out of date!
Unfortunately, our shopping cart does not work on this browser. Update my browser now