The main idea of all building that makes beautiful things, is that at each moment, you are making—actually shaping with your own mind and hands—beautiful strong centers, and making positive space. Every part, and every whole, and every part of every part, is done like this. You do it every day, and every hour. It takes years to learn it; but this is the secret of all good building.
Detailed Construction Sequence for a House:
Thirty-three Building Operations
Preamble
We hope to build a beautiful house, together, here on the site. You'll be using our plans as the core, the seed of what you're making. At each operation you'll be taking what's there on the site, and what's in the drawings, and by adjusting a bit, and adding a part of yourself, making it better. Its like carving a piece of wood; if something is not quite right, it may feel "itchy", you may have that feeling that something needs to change a bit in size or position or shape, to be just right. Often small adjustments are enough. We're not asking you to go nuts in changing everything, neither are we asking you to go on auto-pilot, building without thinking and evaluating. Just be alert and aware to the feeling created by what you're building at every stage, and be ready to adjust what you're building if it feels wrong somehow. At each step you should be creating a whole, finishing a beautiful thing. You should even think of something as straightforward as the footings as a beautiful complete thing you've made in the world. And each operation should have some small beautiful detail you add, some beautiful thing, to make it your own, make it more beautiful. At the end of every operation, you should enjoy what you've made, and look around and evaluate the state of things, and think about how to make the house even better, more beautiful, in the operation to come.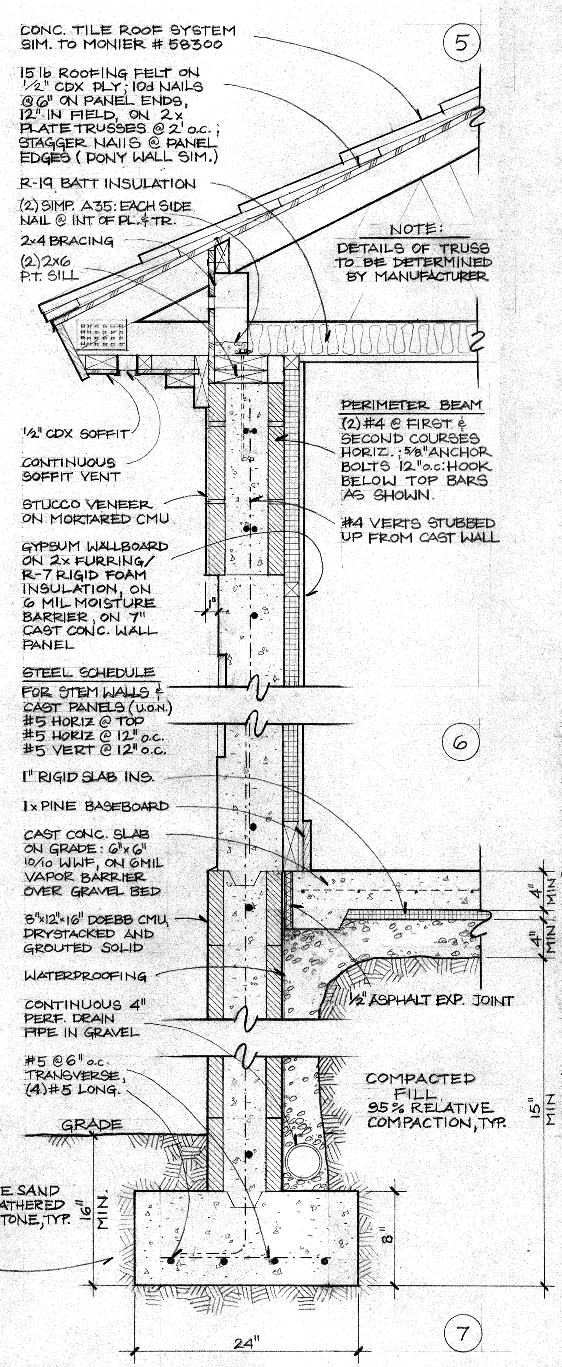 Typical wall section